Profinet slave module IM155.
Model No. IM 155
Order No. UN 155-1PN01-0AA0
Model

IN 155

Order number

UN 155-1PN01-0AA0

Physical properties

Dimensions (W*H*D)

45*100*81 mm

Power consumption

2.5 W (body)

Power characteristics

Rated voltage

DC 24V

Input voltage

DC 20.4 to 28.8V

Input Current

100mA (at DC 24V)

electric shock

12A at 28.8V DC

Insurance

2A 60V slow melt

bus current

Maximum 0.8A

LED indicator definition

DIAG

( red )

( green)

ON: Red : bus error, configuration error, module error, disconnected communication with PLC

Green : No errors

OFF: Not connected to 24V power supply

L

( green )

ON: Always on: Profinet bus communication is normal

Flashing: Profinet bus communication failure, disconnected from plc

OFF : Both RJ45-1 and RJ45-2 network ports have no "valid connection" (connected to plc or switch)

PIR/P2R (RJ45 port green indicator light )

ON: There is a connection to the switch /PN master

OFF: No connection to switch /PN master

PIR/P2R (RJ45 port yellow indicator light )

ON: There is data sending and receiving to the switch /PN master station

OFF: No data is sent or received to the switch /PN master station

D6 (middle plate green light)

ON: 24V power supply (TPS-1 starts correctly)

OFF: 24V power supply is not connected

Flashing : TPS-1 is waiting for synchronization from the host CPU ( disconnected from the mcu )

D7 (mid-plate red light)

ON: There is a diagnostic error in communication

OFF: no error

Expand I/O capabilities

Native IO

none

agreement type

SMART backplane bus protocol

Maximum number of supported modules

Up to 8 (any combination) SMART series standard digital, analog, and temperature modules

I/O maximum configuration

The maximum analog configuration can reach 64AI/64AQ

The maximum digital configuration can reach 256DI/256DQ

Topology

Supports star, tree, line, and ring shapes

Profinet communication port

Communication Interface

2 RJ45 Ethernet communication ports

data transfer rate

Ethernet transmission rate is 10/100Mbps

Profinet transmission rate is 10/100Mbps , full duplex

Supported Ethernet services

Ping , arp , network diagnostics ( SNMP ) /MIB-2 , LLDP

Send cycle

250ms~4ms

Diagnostic function

Module failure

When a fault occurs in the access sub-module, the diagnostic information of the corresponding module is returned to the host computer, and data refresh of the faulty module is stopped.

If the module is lost during runtime, the site will light up and report an error, but it will not affect the access to other modules on the site.

Hardware configuration function

Import file types

PROFINET slave device GSD description file.XML format

Third-party PN main site

Siemens S7-1200 , S7-1500 , S7-300 , S7-SMART and other CPUs that support Profinet master interface

Environmental parameters

Working temperature

0 ℃ ~ 60 ℃ (horizontal installation), 0 ℃ ~ 50 ℃ (vertical installation)

Transport ambient temperature

-20 ℃~80℃

ambient relative humidity

5 ~ 90%, no condensation (RH level 2, in line with IEC61131-2)

Protection level

IP20 , compliant with IEC60529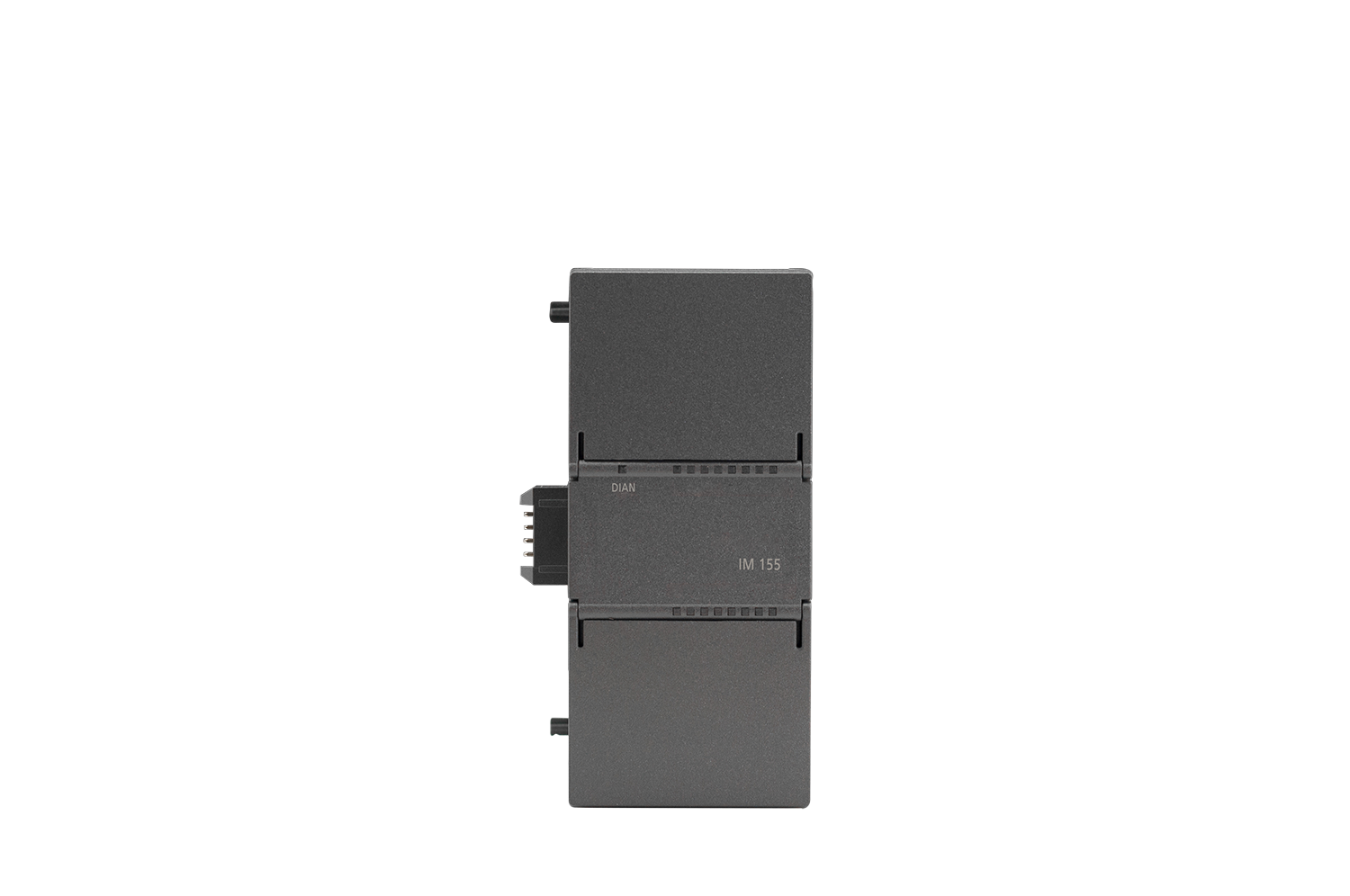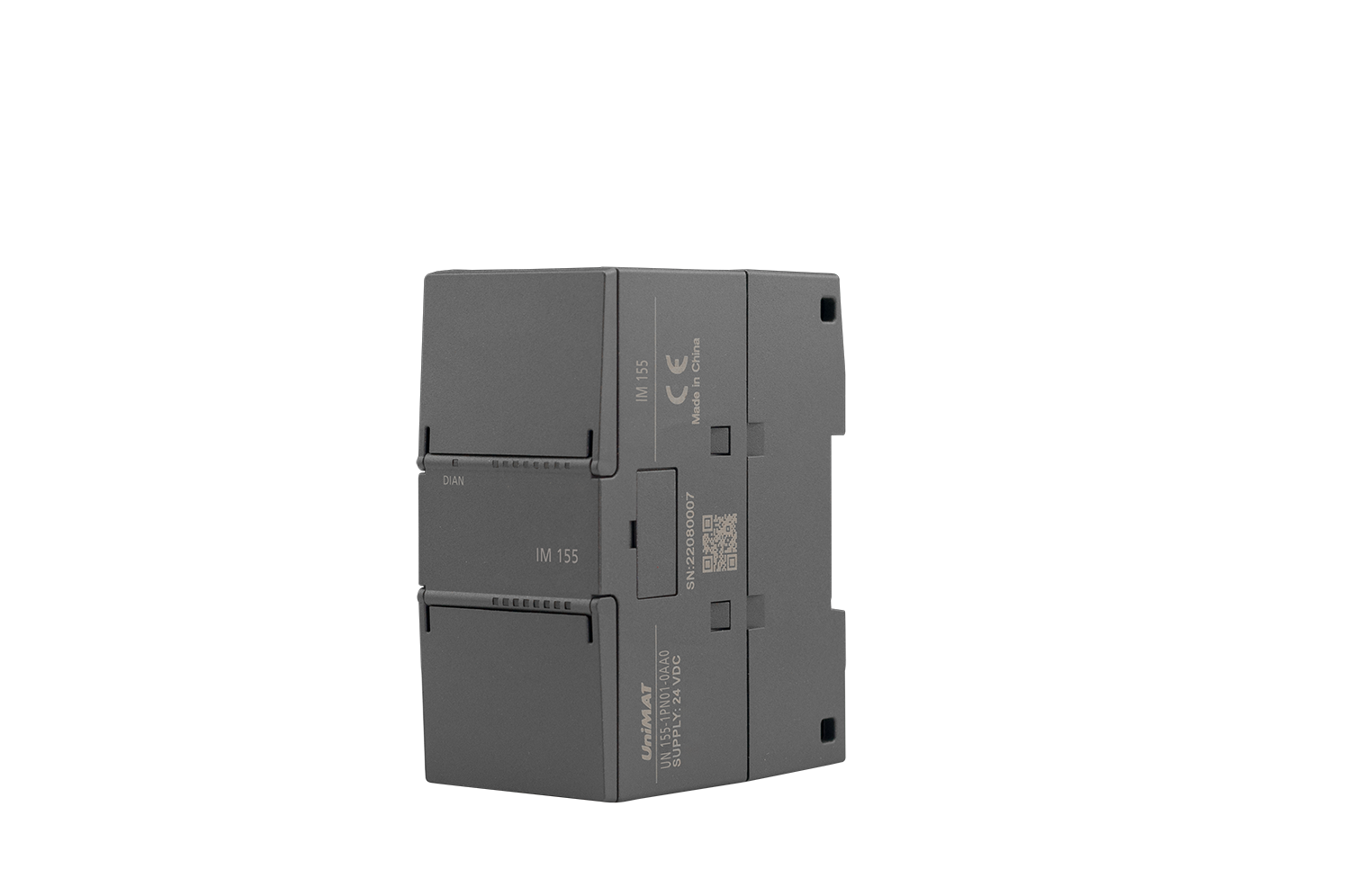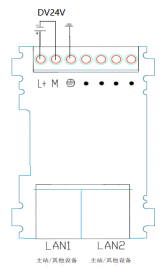 01 Powerful expansion performance, unlimited expansion possibilities
Profinet slave module IM155 comes with 2 RJ45 network ports and supports expansion of 8 UN 200 SMART series I/O modules, including digital modules, analog modules and temperature modules. It can be easily expanded and networked according to actual needs to build a distributed I/O system, bringing higher flexibility and scalability.
02 Easy to use, easy to get started
Profinet slave module IM155 is perfectly compatible with Siemens TIA portal programming software and SMART programming software. You can get started quickly without additional learning, saving time and resources.
03 Convenient networking and supports a variety of network structures
Profinet slave module IM155 supports a variety of network topologies including star, tree, ring, and linear, making the system layout simpler and more flexible to meet the needs of various application scenarios.
04 Support third-party PN main site
Profinet slave module IM155 widely supports multiple third-party PN master stations, including S7-1200, S7-1500, S7-300 and S7-200 SMART, etc.
05 Multiple guarantees to ensure safety
IM155 is equipped with overcurrent, reverse connection and other protection circuits to effectively prevent dangerous accidents caused by abnormal conditions. Effectively ensure the user's personal safety and prevent the device from being burned.
If You Would Like to Contact Support or Make a Purchase Please Fill out the Form
If you have urgent needs, please call our customer service number
Please fill in your information in detail so that our support staff can clearly understand your needs.