Shanghai Packaging Exhibition | UniMAT's many packaging industry solutions are unveiled to attract attention!
On June 23-25, the 2021 Shanghai International Food Processing and Packaging Machinery Exhibition (ProPak & FoodPack China 2021), co-sponsored by China Food and Packaging Machinery Industry Association and China Packaging and Food Machinery Co., Ltd., was held in Shanghai. The exhibition attracted about 2,000 Chinese and foreign companies, and 100,000 industry professionals are expected to visit. As an excellent annual event for food processing and packaging in China, this joint exhibition will once again lead the transformation and upgrading of the food processing and packaging industry and achieve leapfrog development.
As a manufacturer of industrial automation and industrial Internet of Things equipment, UniMAT Automation brought new products, three-port industrial Internet gateway, industrial Internet PLC touch all-in-one machine and packaging industry solutions to this exhibition, and many audiences stopped to visit and consult learn.
The development of packaging
Three-port Industrial Internet Gateway UBox-4G-3L
① Support 3 network ports, switch between router and switch modes, more flexible networking;
② Free open second-level domain name allocation, personalized display on user platform;
③ Support SMS, WeChat, APP and phone alarm, and important alarm information is not missed by phone;
④ Remote update gateway equipment, HMI and PLC programs, remote maintenance is more worry-free ;
⑤ Support edge computing and cloud computing, and custom script algorithms make data statistics display more convenient.
Industrial Internet PLC touch all-in-one machine
The industrial Internet PLC touch all-in-one computer is a master of PLC, HMI and industrial Internet.
① Support industrial Internet function, remote operation is possible;
② The network port can directly download some programs of HMI and PLC, which is convenient for downloading;
③ The body supports digital quantity and analog quantity, which can be selected accordingly;
④ Support 2 BD extension versions, flexibly adapt to different site needs;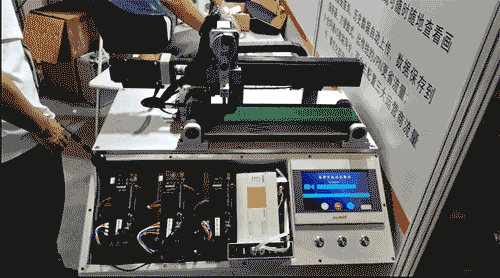 The cutting platform is composed of UniMAT X5S-32TD PLC, US100 servo, UH407 touch screen, Internet of Things gateway and related mechanical structures, which simulates the application site of fixed-length cutting of pipes and profiles. The belt is driven by the servo motor A, which simulates the continuous output of the pipe in the field; the module simulates the tool holder, which is driven by the servo motor B; the crankshaft simulates the cutter. Driven by servo motor C. During the running shear motion, the belt rotates continuously, and the module is accelerated to reach the running speed of the belt. After the speed is synchronized, the crankshaft motor runs at a certain angle, simulating the cutting action of the cutter; after the cutting is completed, the module table returns at a high speed The origin, waiting for the next cut, and so on.
System Features:
丨High precision
丨High work efficiency
丨The electrical power is relatively reduced, and the cost performance is high
exhibition site
If You Would Like to Contact Support or Make a Purchase Please Fill out the Form
If you have urgent needs, please call our customer service number
Please fill in your information in detail so that our support staff can clearly understand your needs.